Fabria Area Rugs offer a selection of area rugs for just about every room.
Hand Crafted Rugs, Bordered Rugs, Leather & Bound rugs, and Hand Tufted Rugs are all top quality crafted rugs that are a true representation of the Fabrica Fine Carpet and Rug name!
Presented in this section are over 200 of Fabrica's area rug designs. These magnificent rugs have been categorized for your convenience, and you will find them classified based on their respective design influence. Available in 4' x 6', 5' x 7', 6' x 9', 8' x 10', 9' x 12', and 12' x 15'. These designs are also available in custom shapes or any size to include runners, ovals, octagons, staircases and Wall-to-wall rugs. Each rug is handmade-to-order in any combination of colors and textures you may desire.
Whether a standard or custom design, every Fabrica area rug incorporates the finest materials and manufacturing technology.  Inspired by a passion for product perfection, each component has been engineered to achieve the perfect marriage of artistry and performance.  The philosophy, when blended with the home furnishing's industry's most exciting colors and textures, produces area rugs of distinction.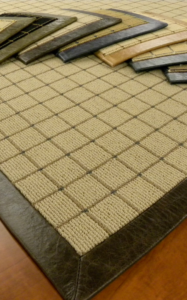 Each bordered rug is made-to-order and available within only three to four weeks. Each collection has a distinctive patterned broadloom carpet and coordination border material. Should you decide to customize your selections, and not select from one of our standard collections, you can work with one of our rug designers to help coordinate your color texture selections.
Fabrica features the best quality finishes.  These rugs are recognized for their singular beauty and exceptional quality.  Using superior materials, state-of-the-art technology, and highly skilled craftsmen, Fabrica creates rugs that offer "Quality Without Compromise".
We have several quality finishes to choose from.  Leather, Linen, Canvas, Piping, Serging, and Binding are a few of the most popular.  The above photo features a Leather finish available in 24 colors.  We also have an extensive Canvas, Serging and Binding library to select from. Please feel free to contact us regarding any additional details and sample availability.